Community Media Podcast - United We Stand: ACM President, Mike Wassenaar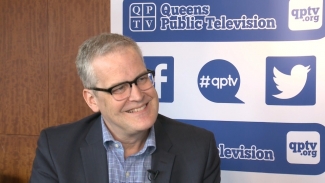 In this episode of the "Community Media Podcast," host John Collins welcomes Michael Wassenaar, President of the Alliance for Community Media, the educational, advocacy and lobbying organization that represents over 1000 local media outlets across the US. The ACM works tirelessly to support and promote these public, educational, and government access (PEG) cable TV organizations and community media centers that strive to promote interest in local issues and events.
In the podcast, Mr. Wassenaar offers some thought provoking ideas about the value of these community media centers when it comes to their roles in promoting civic engagement and protecting and increasing freedom of expression. Wassenaar also speaks to the challenges PEG channels face today and going forward.
The Community Media Podcast can be heard here at qptv.org and via all major podcast platforms. If you enjoy the show please tell someone you know about it and subscribe wherever you get your podcasts.
---
Community Media Podcast Credits -
Daniel J. Leone: Executive Producer
Mark Bacino: Additional Production, Record-Mix
John Collins: Producer, Announcer, Host, Record-Mix