Queens Creative – Danny Weinkauf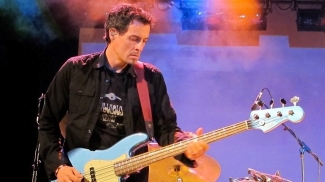 This episode of "Queens Creative" spotlights singer-songwriter, producer, multi-instrumentalist, composer, Grammy-winner and Queens born, Danny Weinkauf.
Widely known for his twenty-plus year and counting run as bass player for indie rock icons They Might Be Giants, Danny has also played on numerous records as a studio musician, working with such acclaimed artists as Fountains of Wayne and David Mead. As a songwriter and composer, in addition to writing for They Might Be Giants, Danny has crafted numerous compositions for film, television and advertising all while also writing and recording his own very cool brand of children's music as a solo artist.
Listen in on this episode as Danny and "Queens Creative" host, Mark Bacino discuss Danny's history with the Giants, what it's like to win a Grammy, his work in family music and much more. Then, after the interview, be sure and stick around as Danny treats listeners to a fun acoustic performance.
"Queens Creative" can be heard here at qptv.org and via all major podcast platforms. If you enjoy the show, please check out past episodes and subscribe to "QC" wherever you get your pods.
Queens Creative Credits:
Daniel J. Leone: Executive Producer
John Collins: Announcer
Mark Bacino: Producer, Writer, Host, Audio Record-Mix