Queens Creative – Maria Lisella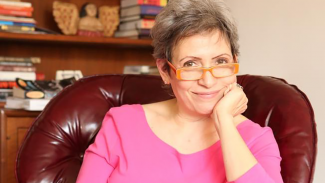 This episode of "Queens Creative" spotlights Queens Poet Laureate, Maria Lisella. Awarded the Poet Laureate position in 2015 by then Borough President Melinda Katz, Queens native and current Astoria resident Ms. Lisella is the sixth poet to hold the borough's esteemed Laureate title. In 2020, Maria was also named a Poets Laureate Fellow by the Academy of American Poets and to date has three books of poetry to her credit as an author. In addition to her work as a poet, Ms. Lisella has also taught at college level and holds a Master's degree from NYU-Polytechnic Institute.
And if all those accomplishments weren't enough, the talented Ms. Lisella is also a skilled journalist - currently NY Culture Editor for the Jerusalem Post and an award-winning travel writer with a 30 year career that has taken her to over 60 countries and seen her work published by such outlets as USA Today and Travel & Leisure.
Listen in as Maria and "Queens Creative" host, Mark Bacino discuss Maria's Queens roots, her love of poetry, the creative process, her work as a travel writer and much more. Then, after the interview, be sure and stick around as Maria treats listeners to a special reading of two original poems.
"Queens Creative" can be heard here at qptv.org and via all major podcast platforms. If you enjoy the show, please check out past episodes and subscribe to "QC" wherever you get your pods.
 

Queens Creative Credits:
Daniel J. Leone: Executive Producer
John Collins: Announcer
Mark Bacino: Producer, Writer, Host, Audio Record-Mix
Photo of Maria Lisella (above) by Maki Hirose