Queens Creative – Laura Cantrell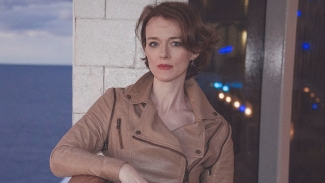 This episode of "Queens Creative" spotlights the fabulous country singer-songwriter, radio DJ and Jackson Heights, Queens resident, Laura Cantrell. A favorite of famed British DJ John Peel and music legend Elvis Costello, the Nashville-born Ms. Cantrell has five album releases to her credit as an artist and has showcased her talents as a guest on such iconic programs as "A Prairie Home Companion" and the "Grand Ole Opry."
And if that wasn't enough, in addition to her work as an artist, Laura is also an acclaimed DJ, creator of the long-running "Radio Thrift Shop" on local, NY-area radio and more recently host of the programs "Dark Horse Radio" and "States of Country" on satellite and streaming radio, respectively.
Listen in as Laura and "Queens Creative" host, Mark Bacino discuss Laura's Nashville beginnings, her music, her love of radio, what it was like to sing with Elvis Costello and much more. Then, after the interview, be sure and stick around, as Laura treats listeners to an intimate, live performance from her home in NYC.
"Queens Creative" can be heard here at qptv.org and via all major podcast platforms. If you enjoy the show, please check out past episodes and subscribe to "QC" wherever you get your pods.
Queens Creative Credits:
Daniel J. Leone: Executive Producer
John Collins: Announcer
Mark Bacino: Writer, Producer, Host, Audio Record-Mix