Queens County USA – Rock 'n' Roll High School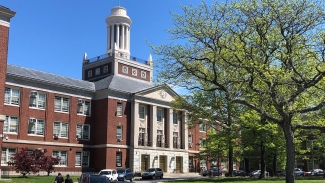 What do folk rock duo Simon & Garfunkel, pop composer Burt Bacharach and punk rock pioneers The Ramones all have in common?
It may be hard to believe, but the aforementioned musical legends are all, indeed, prestigious alumni of Forest Hills Public High School, located in the Forest Hills section of Queens, New York. On this episode of "Queens County USA," host Mark Bacino explores Forest Hills High's interesting history, as well as its fascinating and varied roster of accomplished graduates.
"Queens County USA" can be heard here at qptv.org and via all major podcast platforms. If you enjoy the show, please subscribe to "QCUSA" wherever you get your pods.
Queens County USA Credits:
Daniel J. Leone: Executive Producer
John Collins: Announcer
Mark Bacino: Producer, Writer, Narrator, Audio Record-Mix
Lee Bacino: Photographer