QPTV Wins at the 2021 Hometown Media Awards!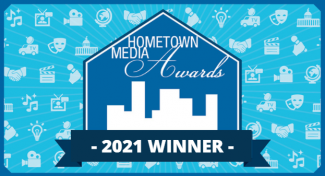 Queens Public Television received two 2021 Hometown Media Awards from the Alliance for Community Media Foundation. The awards program was established to honor and promote community media, community radio, and local cable programs that are distributed on Public, Educational and Governmental (PEG) access cable television channels.  

 
Overall Excellence
in P.E. or G Access
Watch QPTV's award-winning Overall Excellence clip on QPTV.org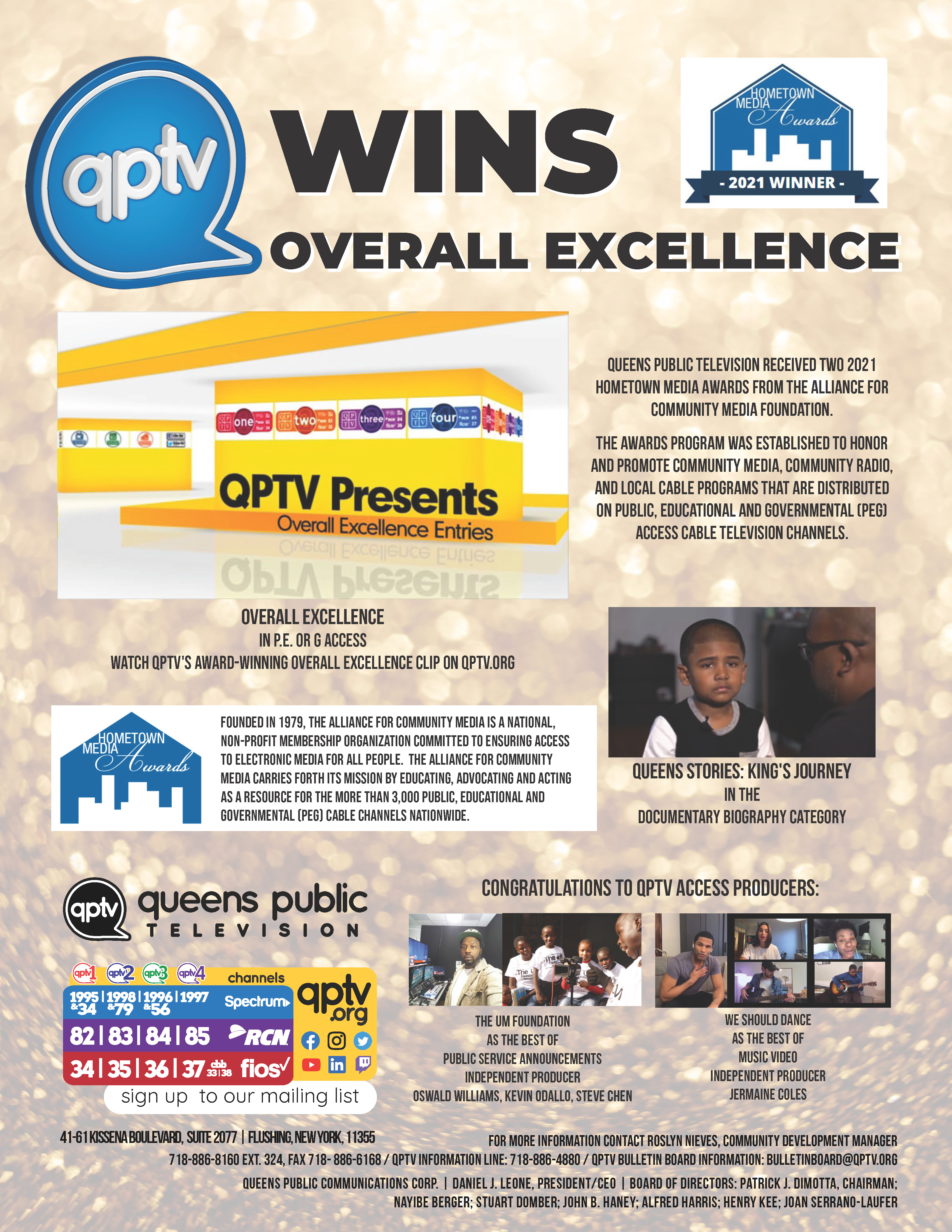 Queens Stories: King's Journey
in the
Documentary Biography Category

EXECUTIVE PRODUCER
Daniel J. Leone

SUPERVISING PRODUCER
Luchia Dragosh

PRODUCER/DIRECTOR
Luchia Dragosh

PREDITOR
Andrew Guidone

CINEMATOGRAPHERS
Christo Bakalov
John Collins Jr.

AUDIO
Noran Omar

FINAL SOUND MIX
Mark Bacino

PRODUCTION ASSISTANT
Christina Gary

COLOR CORRECTION
Christo Bakalov
 
Congratulations to QPTV Access Producers:

The UM Foundation
As the Best of
Public Service Announcements
Independent Producer
Oswald Williams, Kevin Odallo, Steve Chen

We Should Dance
As the Best of
Music Video
Independent Producer
Jermaine Coles 


Each year, nearly one thousand entries are submitted. These entries, or programs, are submitted and evaluated on several factors resulting in over 100 award winners. A panel of judges from the industry evaluate the entries. Awards are presented to the most creative programs that address community needs, develop diverse community involvement, challenge conventional commercial television formats and move viewers to experience television in a different way.
 
"The Hometown Media Awards celebrate both the excellence of work and the diversity of media that appears on community channels being produced around the country. The ACM Foundation is proud of their achievement and of how they represent their communities in their work," said Mike Wassenaar, president & CEO, Alliance for Community Media.
                                                             
About the Alliance for Community Media (www.allcommunitymedia.org)

Founded in 1979, the Alliance for Community Media is a national, non-profit membership organization committed to ensuring access to electronic media for all people.  The Alliance for Community Media carries forth its mission by educating, advocating and acting as a resource for the more than 3,000 Public, Educational and Governmental (PEG) cable channels nationwide.
QPTV Wins Overall Excellence and in the Documentary Biography Category
Watch the Overall Excellence video on QPTV.org