QPTV Wins 2020 Hometown Media Award for Queens Day In Albany 2019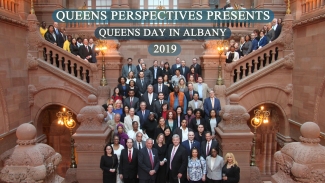 Queens Perspectives Presents: Queens Day In Albany 2019
As the Best of
Government Activities, Access Center Professional
Daniel J. Leone, Roslyn Nieves, Madeline Johnson
Steven Williams, Joseph M. Swift and Kyle Meyfohrt
This program was an amazing fit for the government activities category!
The show highlights Queens Borough President Melinda Katz, the Queens Chamber of Commerce, legislators, members of the community, and the businesses of Queens as they celebrate Queens Day in Albany 2019. This event is always a huge success! Participants enjoy a full day that includes: complimentary transportation, meet and greet the Queens Assembly and Senate delegations, tours of the majestic Capitol Building and Legislative Chambers, and a sampling from the finest food and drink purveyors in Queens. The trip gives Queens' constituents an opportunity to come together at the State Capitol to have their voice heard and to showcase the culture, tourism, and economic development of our great borough at the State Capitol in Albany. Tune in as QPTV's Roslyn Nieves and Queens Chamber of Commerce's Tom Grech brings you highlights of the 2019 Queens Day in Albany bus ride... This event is hosted by the Queens Borough President's Office and the Queens Chamber of Commerce. Photo compliments of Queens Ledger / Brooklyn Star Weekly Newspaper Group.
The QPTV team is honored to be acknowledged by our colleagues in the industry.