Queens County USA - The Wizard of Ozone Park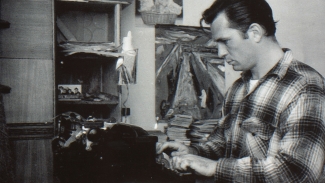 In 1957, Viking Press published "On the Road" written by famed author, Jack Kerouac. A work widely considered to be one of the great American novels. While recognized the world over and acknowledged as a seminal classic of the "Beat Generation" literary movement, few are aware that Kerouac wrote nearly the entirety of his sprawling "On the Road" from the interiors of two humble apartments, both located in Queens, New York.
Nicknamed "The Wizard of Ozone Park" by friend and celebrated Beat poet, Allen Ginsberg, Jack Kerouac had little-known but deep connections to Queens County, having lived in both the aforementioned Ozone Park and Richmond Hill sections of the World's Borough between 1943 and 1957.
Listen in on this episode of "Queens County USA" as host Mark Bacino explores Kerouac's unsung life and times in Queens.
"Queens County USA" can be heard here at qptv.org and via all major podcast platforms. If you enjoy the show, please subscribe to "QCUSA" wherever you get your pods.
Queens County USA Credits:
Daniel J. Leone: Executive Producer
John Collins: Announcer
Mark Bacino: Producer, Writer, Narrator, Audio Record-Mix
Photo of Jack Kerouac (above) courtesy of the Orange County Regional History Center