Queens Public Television Presents TSINY's Turn The Page... Again ! 10th Anniversary Celebration of Success 2020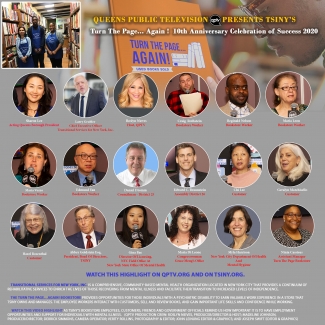 WATCH THIS HIGHLIGHT ON QPTV.ORG AND ON TSINY.ORG.
TRANSITIONAL SERVICES FOR NEW YORK, INC. IS A COMPREHENSIVE, COMMUNITY-BASED MENTAL HEALTH ORGANIZATION LOCATED IN NEW YORK CITY THAT PROVIDES A CONTINUUM OF REHABILITATIVE SERVICES TO ENRICH THE LIVES OF THOSE RECOVERING FROM MENTAL ILLNESS AND FACILITATE THEIR TRANSITION TO INCREASED LEVELS OF INDEPENDENCE.

    THE TURN THE PAGE…AGAIN! BOOKSTORE PROVIDES OPPORTUNITIES FOR THOSE INDIVIDUALS WITH A PSYCHIATRIC DISABILITY TO EARN VALUABLE WORK EXPERIENCE IN A STORE THAT TSINY OWNS AND MANAGES. THE EMPLOYEE WORKERS INTERACT WITH CUSTOMERS, SELL AND REVIEW BOOKS, AND GAIN IMPORTANT LIFE SKILLS AND CONFIDENCE WHILE WORKING.
 
     WATCH THIS VIDEO HIGHLIGHT AS TSINY'S BOOKSTORE EMPLOYEES, CUSTOMERS, FRIENDS AND GOVERNMENT OFFICIALS REMIND US HOW IMPORTANT IT IS TO HAVE EMPLOYMENT OPPORTUNITIES AND SUPPORT FOR INDIVIDUALS WITH MENTAL ILLNESS.   (QPTV PRODUCTION CREW: ROSLYN NIEVES, PRODUCER/DIRECTOR & HOST; MADELINE JOHNSON, PRODUCER/DIRECTOR; DERRICK SIMMONS, CAMERA OPERATOR; VERITY ROLLINS, PHOTOGRAPHY & EDITOR; JOHN LEINUNG EDITOR & GRAPHICS; AND JOSEPH SWIFT EDITOR & GRAPHICS)